About us
Local gals. Local shop.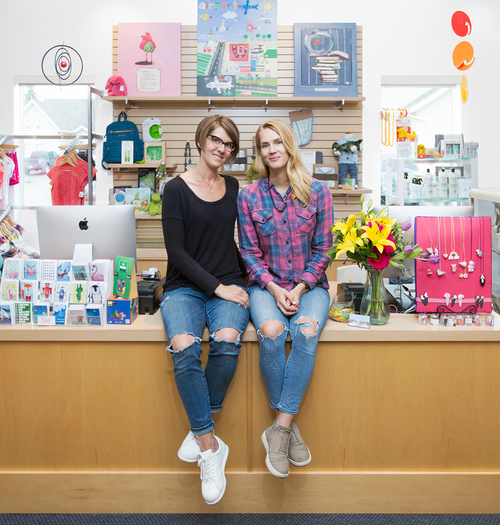 We're a couple of sisters, surrounded by kids, doing our thing, hoping to share with you and your family fashion, footwear, and products we love. We, Jill Williams and Lesley Bowman, are sisters born and raised in Sherwood Park. We have a passion for kids, our community, and local business, and are thankful to have the opportunity to enjoy it all as the proud owners of Max & Maude.
We want every one of our customers to have an unparalleled experience at our store. Our goal is to provide unique clothing, gifts, and footwear to suit any need. Your visit to our store should be fun and easy, so we do our best to help you find exactly what you're looking for, offer gift wrapping and a sweet treat as you shop.
The owners and staff at Max & Maude appreciate our customers, and we're grateful every time you choose to shop with us! We hope to see you soon!
Store Hours:
Monday: 9:30 am - 7:00 pm
Tuesday: 9:30 am - 7:00 pm
Wednesday: 9:30 am - 7:00 pm
Thursday: 9:30 am - 7:00 pm
Friday: 9:30 am - 7:00 pm
Saturday: 9:30 am - 4:00 pm
Sunday: 11:00 am - 3:00 pm
Store Location:
11 Athabascan Avenue #160 
Sherwood Park, AB T8A 6H2
** COVID19 HOURS OF OPERATION:
Monday: Closed
Tuesday/Wednesday/Friday/Saturday/Sunday: 11:00 am - 4:00 pm
Thursday: 2:00 pm - 7:00 pm